Welcome to the English version of the historic panel of La Gerbetière.
Etymology : The name « Gerbetière » comes from gerberie, a place where wheat was stored.
Childhood home of naturalist painter Jean-Jacques Audubon
« My father's beautiful property was situated in sight of the Loire… I found it delightful… Everything attached to it seemed to me of a superior class.
I am deeply attached to France and I wait impatiently for the day when I will enter my old garden on the banks of the Loire, and with a spring in my step reunite with my mother. » Jean-Jacques Audubon.
| | |
| --- | --- |
| 1781 | Birth of Jean-Jacques Audubon in Saint Domingue (now Haiti) |
| 1788 – 1800 | Jean-Jacques Audubon visits La Gerbetière regularly |
| 1803 | Embarks for America |
| 1806 | Settles in America |
| 1812 | Acquires American citizenship |
| 1830 – 1839 | Publication of « The Birds of America », composed of 435 life-size prints |
| 1851 | Death of Jean-Jacques Audubon in New York |
| 2002 | Purchase of La Gerbetière by the municipality of Couëron |
A beautiful tufa façade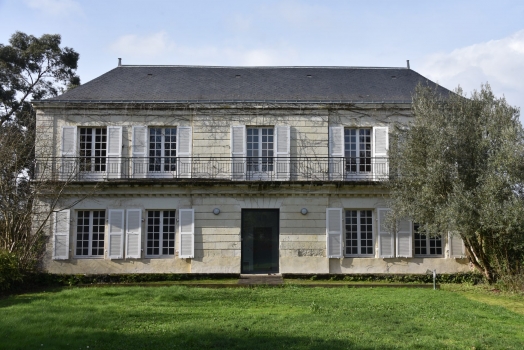 La Gerbetière is a 17th century aristocratic mansion, modified at the end of the 18th century by Jean Audubon, who had his initials incorporated into the balcony's railings. It shows a beautiful, Directoire-style tufa façade. The building was modified again at the beginning of the 20th century : so the limestone dormer of the façade and the buildings that formed an enclosed courtyard were destroyed.
The large garden, protected by its high walls, is an invitation to daydream : it houses several exotic trees, such as a loquat, a eucalyptus tree and a number of local species.
The birth of a vocation
Jean-Jacques Audubon experienced some formative moments of his childhood at La Gerbetière. Drawn to the surrounding marshes, he made his first drawings there, which are today mainly conserved at the Natural History Museum of La Rochelle.
« It's at about this time that I embarked upon a series of drawings of birds of France, that I continued until I had reached over two hundred. » J.-J. Audubon
His father kept company with ships' medical officers, merchants, and sailors, and notably Charles-Marie d'Orbigny, all of them enthused by botany and natural history, which would encourage his vocation.
« I grew and my passion for natural history grew with it. Everything I saw, I wished to own. More ambitious than the conquerors, I desired the world, and my desires had no limits. » J.-J. Audubon
Very young, he visited the United States, a wonderful destination for an adventurous soul. In Louisiana, in the bayous of the Mississippi delta, he observed the finest birds of the continent. His chief work, « The Birds of America », is a true masterpiece.
Today, Jean-James Audubon is known to all Americans. The National Audubon Society is one of the most powerful environmental groups in the United States.
Learn more about Jean-Jacques Audubon (in French) : www.audubon.fr
Extracts from « The Birds of America », etching and dry point watercolour
The Audubon Marshes
Close by to La Gerbetière stretch the Musse marshes, today named after this illustrious native of the area. They accommodate an extremely rich fauna and flora: storks, herons, and corncrakes; snake's head fritillary, willows, poplars, and oak pollards, which line their canals.
A place for culture
La Gerbetière was restored and adapted by the municipality of Couëron to become a cultural venue open to all: exhibitions, concerts, and shows are regularly organised there.
Works of the young  J.-J. Audubon
From the collection of the Charente-Maritime Natural Sciences Society
Conserved by the Natural History Museum of La Rochelle
Discover the history and the heritage of Couëron
Walking guides are available at the town hall and the town's cultural venues
Digital treasure hunts to discover Couëron's heritage are available as free downloads from baludik.fr